"First impression is the last impression."
This statement holds true almost everywhere, from professional world, to personal. Rather, even if some would disagree with this, it cannot be argues that first impression is one of the most important and lasting one. People are getting quicker and the world is moving at an ever increasing pace. It takes less than one second for people to judge and form an opinion about anything they come across- people, websites, graphics, images, and the list is endless.
So, coming to the relevance of these in a presentation, we know that presentations are no exception to these. Before the whole presentation starts, viewers would make an opinion about both the presenter and the presentation through the initial slide/s, and here, our agenda slides come into play.
What do Agenda Slides do In a Presentation  ?
These agenda slides basically provide the viewers with a concise idea of what they are going to be presented with. These are not compulsory, but, they tend to lay the foundation stone of the impression a presenter is going to create on the viewers. Also, it helps both the presenter and the viewer to feel more organized, hence making all the discussions to be made further easy to be retained as the mind already bifurcates the subject matter as required.  While making the agenda slides seem to be a cakewalk, it can be complicated to create them in a way that is eye catching and has as less clutter on the screen as possible.
It requires the correct amount of visuals, graphics, and text.  Extra amount of visuals can be too distracting and divert the focus of viewers from the main agenda to the fascination of visuals, whereas more text can make it seem too bland and boring. Further, a perfect color scheme which is suitable for the product or service or plan thus offered can also pose a challenge for the creator as there are many things to be kept in mind while deciding upon it, like, background and layout of slides, texts that need to more focus, the feelings evoked by different colors, etc.
To solve your problem of creating an impactful and perfect agenda slide, here are some handpicked templates that you can use to enhance the quality of your presentations-
It provides numbered banners on one side that can contain a short headline for various topics, and textboxes on the other to contain more descriptive information about your main highlights. Customize the color scheme so that it goes perfectly with the topic or use the default color scheme of orange, green, teal, and blue which already provides a perfect combination of colors to enhance the key feature of visual appearance of the slide. The info graphics consisting of origami shaped banners and the numbered style are a perfect fit for highlighting the highlights and features of your forthcoming slides.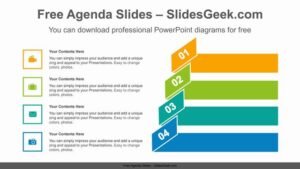 Download this Presentation Template
It offers a Header, description textbox, and 4 different icons with textboxes. The graphic of a man playing a naval trumpet can be used for a symbol of amplifying the message, promoting a product or service, or even for music related subject matters. The icons can be easily customized and in our perspective, they would be a perfect fit to describe the features of what is offered or an action plan for certain goals and objectives. The blue color of the main graphic evokes a sense of confidence and security as well in order to gain trust.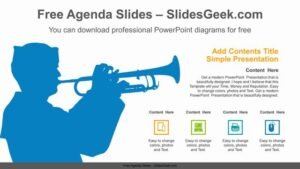 Download This Presentation Template
It comes with one major text box and icon segregated from the rest 4 items, which can be used to describe the basic highlight of the upcoming presentation, and the smaller ones can be used for subsequent points that follow. The diamond shape of icons and graphics help illustrate different ideas by using visuals to create a perfect series or sections. The icons as well as the color scheme are always customizable to best suit your requirements along with providing a hassle free experience and a neat agenda slide to begin with.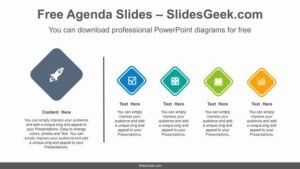 Download this Presentation Slide
Providing a basic layout of rectangular boxes with a contrasting color scheme that ensures to grab the attention and confidence of the viewers, as well as creating a professional and warm vibe. Its simple design is convenient for most situations and purposes as it presents a minimalistic style. The icons in the textboxes are always customizable to best suit your requirement and the color scheme is customizable, too, to create the vibe of your choice for a better impact of the topic of the presentation.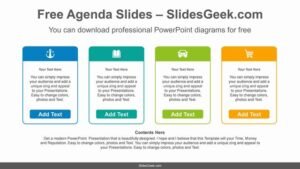 Download This Presentation Template
With different icon banners having different colors and a contrasting theme with varied text color as well, this one is a better fit for those who aim to show a varied perspective or a varied list of items in the agenda slide. Icons on the top of each banner come with a text box to easily add a header over each which provides a key point for every item. It is pretty useful to even provide hyperlinks at the bottom of each banner and hence would be effective in various types of presentation, from marketing, to pitching and preparing reports which may be representing various sections of the subject matter.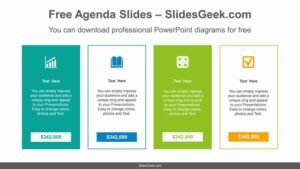 Download This Presentation Template
People are gradually moving towards more environment friendly methodologies in almost all aspects, and more and more techniques and ideas are evolving for the same. So, presentations relating to those are in high demand as well, and this agenda slide would instantly point out to the sustainability of the idea being presented. The green energy template comes with innovative graphics relating to environment friendliness and sustainability. The text boxes are placed in a way that they grab enough attention of the viewers as well. Further, the template is completely customizable if you need amendments due to more specified requirements.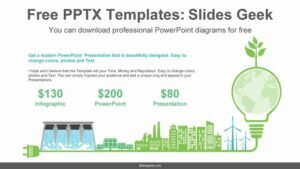 Download This Presentation Template
Circles are one of the most widely used designs for graphics, and this template has modified the basic circular designs into innovative arrows and can be used to demonstrate easily the stages, steps, or roadmap to a particular objective or task. Circular designs and patterns are easier for the brain to retain and thus usage of this template would enhance the impact you create on the viewers. The color scheme and icons can be edited to best fit your subject matter and contents.
Download This Presentation Template
With the passage of time, E-Learning has gained much importance, due to its ease of access and increased effectiveness. Also, the pandemic has significantly increased its popularity, but there are always two sides of a coin. So, this E-Learning slide template helps you create the required text matter that can help you easily represent both the aspects of the featured topic, along with providing a unique info graphic style to enhance the visual appeal and enabling the viewers to guess immediately the topic put forth. The icons and color scheme are yet again editable for better representation of your requirements.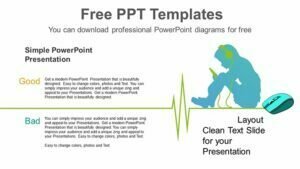 Download This Presentation Design
We are all by now quite well versed with how a better visual representation makes a subject matter more easy to retain than just plain texts and boring layouts, so, this slide comes with hexagons, but diagonally stretched out so as to show each aspect of the slide in a unique way. Its geometrical arrangements and a graphic styled layout are aligned and set up in a near perfect way to effortlessly enhance the visual appeal and at the same time not diverting the attention from the main subject matter. Also, this, too, comes with an editable color scheme and graphics.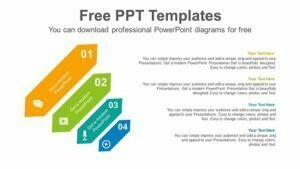 Download This Presentation Template
Computers have become almost indispensable in our lives, so, obviously, all the services related to them have seen a rapid increase in their demands. This computer repair slide template helps you create a recovery service slide without the hassle of constantly looking for and adding relevant pictures, graphics, icons, etc. it comes with the graphic of computers with repair written on it making it easily identifiable for a person who may need the service offered. Enhancing the visuals to a greater extent is not just the graphic, but, the placements of both texts and graphics as well. The freedom to customize color scheme and further, the graphics, is retained for maintaining your personal touch to the slides.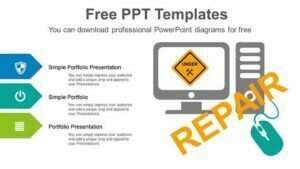 Download This Presentation Diagram
This colorful chain template helps you to define the analogy, chronology, or series of a given topic conveniently. It also portrays the link or connectivity among all the four elements hence represented. Moreover, the colors help distinguish the theme of each element and can be further suited to your requirements. While on one hand, starting off a presentation with this slide can create a lasting impression, on the other hand, this slide in itself can give a complete idea of the idea which needs to be conveyed. The entirely customizable format and a handpicked layout tend to act as a cherry on top.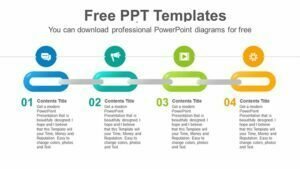 Download This Presentation Diagram
Chevron literally means a V-shape arrangement, to this chevron hexagonal arrangement offers you five hexagon icons with ample space for the required text alongside. The hexagons provide you with the space for icons to best suit the text to be written, and make easily identifiable the relevance of the text thus added. The five hexagons are by default set in different colors to highlight the variety of points, but, if you require a different color scheme, it is easily customizable just like the icons inside the hexagons, too.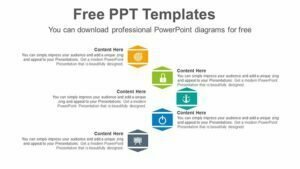 Download This Presentation Design
Also, one thing about agenda slides that is quite fascinating is the fact that they can be used both within a presentation, and even as standalone. They are complete in themselves and offer vast utility. So with this, we sum up, and hope you now would find it easier to create a perfect slide to ace your presentation or research. Stay tuned to this space for other blogs and articles for various other topics, subjects, and ideas. Stay safe!