"Presentations are the most amazing persuasion tool available with organizations today."
–Nancy Duarte
First things first, why use presentations in businesses or consultancies?
Presentations are a sure shot way to blend the power of words, and the magic of images, to create and present a wide array of possibilities and hold on to the attention of the viewer constantly. Nancy Duarte very easily explained the most important aspect of presentations, that is, persuasion. Indeed, persuasion is a skill which is highly demanded by all fields or professions, since everyone wants to prove why the product or service offered by them is supreme. Business or consultancy communications often fall prey to being too bland, boring, or distracting. This, however, can be taken care of by using presentations. Here's how:
They help to connect with the audience and elaborate the relevance of the subject matter involved. Since presentations involve graphics, images, and text altogether, they enable the viewer to follow the logic of the presentation.
Moreover, they provide a framework for communicating information in a structured and consistent way all through the organization and the clientele. Presentations can prove fruitful for both one on one meeting, as well as for group meetings, being equally impactful all throughout.
Since such presentations involve promoting or selling a product, they need to be informative and descriptive too, so as to not seem to be beating around the bush. A presentation can either make, or break a deal. While your personal aura and way of presenting plays a significant role, the slides you display should be equally, if not more, suitable and relevant.
Why Presentations are important for business managers and consultants ?
A presentation for business and formal set ups should be adequately made impactful with graphs, charts, diagrams, graphics, images and statistical facts and figures. To fulfill all these requirements, using a presentation template is always handy, since they are designed with utmost care and perfection, and contain different layouts for different slides so as to not be repetitive with the types of images and graphics which may eventually be too distracting.
Using a template enhances the creativity and makes you seem more organized, because while being varied in the graphics, they involve a similar theme all over so that it keeps the audience on the same track.
For more effective and powerful presentations, following are some templates to enable you create presentations that would be connecting, appealing as well as informative:
Blue is a color widely used in branding to instill a sense of security, stability, loyalty, and confidence. The template comes with a blue theme all throughout, with graphics and images complimenting the overall color scheme. It can be used for a variety of purposes, like, creating service deck portfolios, social media campaigns, and digital marketing strategy deck, or even social studies and research summary reports. It contains various layouts, ranging from timelines, to flowcharts to enhance the visualization of the audience. Since we are quite well versed with the importance of visuals, the template offers a variety of icons as well, that can be placed wherever required. The graphics and layouts are perfectly designed for business managers, consultants, researchers, etc. and can be further customized to be easily used by those belonging to other fields as well.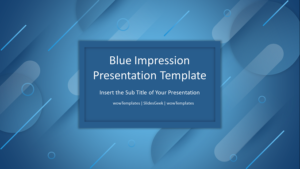 Download Blue Impression Presentation Template for Free!
Globalization is an aspect kept on primary focus in any business, since the world is now interconnected through various ways and means of connectivity. So, this presentation template comes with a cover slide depicting a world map. It comes with a green color theme which is associated with growth and vitality. The layouts in the template are designed in a way that the graphics are not too overwhelming, while being adequately appealing. Business leaders and managers can draft effortlessly presentations for the performance of business, involving new investors, and acquiring new business or customers. It also offers you a 135-icon elegant and vector icon plan that can enhance the details well.
Download Global Business Presentation Template for Free!
Crypto currency is gaining popularity and importance due to being reliable source of investment which is not subject to inflation and other policies. For this reason, business managers and entrepreneurs have been more interested in startups relating to these, which give rise to a requirement for better presentations. This template is a one stop solution for the same and includes slides designed to show a roadmap of ideas, or history of an organization. The cover slide and other themes are perfectly related to Bitcoin and cryptocurrencies in general. The yellow-golden color scheme stirs up a feeling of optimism and wealth which can help develop a positive attitude of the viewer for the same.
Download Golden Bitcoin Presentation Template for Free!
This template comes with info graphic designs relating to shipping, airlifting and cargo delivery. Since an effective logistics system requires detailed analysis of a company's supply chain, the pre-built templates with information delivery layouts make it usable in various occasions within the industry. Some well-defined slide layouts included in the template are those of agenda presentation, timeline, team introduction, business performance and growth charts and graphs, etc. The graphics are all related to logistics, transportation and shipping and provide usability to students, researchers, teachers, professionals and business managers. The icon pack provided and color scheme being customizable further eases out the whole process of perfecting the presentation to suit your requirements.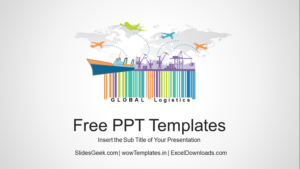 Download Global Logistics Presentation Template for Free!
It is quite known now, that local food is healthier, tastier, and fresher. The demand for it has escalated rapidly in a very brief period of time. So to create an impression among the investors, customers, or even promotional purposes, this template offers all that you require, consolidated into 48 slides, to help you showcase your creativity and ideation in your food business. This template provides you with layouts and graphics for recipes, diet consultancies, food engineering, fresh food, and organically grown farm products. It has a minimalist style with an elegant font and food related graphics and images, set with fonts to just match the style of the presentation.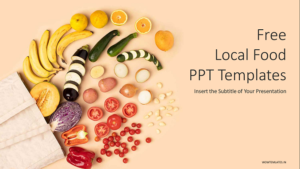 Download Local Food Business Presentation Template for Free!
The branch of horticulture pertaining to flowers: floriculture, the name itself instills an aesthetic sense in our heart and mind. To present forth your floriculture business while retaining the everlasting beauty it has to offer, this template is the perfect solution! Floriculture has become one of the most profitable businesses, so indulging in this field would most certainly require pitch deck presentations as well- and this template has flowery styles, graphics and backgrounds to meet your requirements. The layouts, designs, and graphics are present in ample amount, and can even be customized, added, or removed as per your convenience.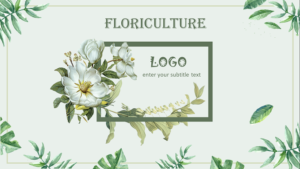 Download Floriculture Business Presentation template for Free!
25 slides with red and grey contrast, loaded with tons of graphics, images, and icons- perfect for a field as diverse and competitive as marketing. Over the years, marketing has become way more dynamic and branched out into the digital space, which requires more precision so as to visually appeal the viewer and deliver ideas effortlessly. Presentations play a significant role in the field of marketing as they tend to impact on the viewer's mind and a perfectly drafted one would instill a sense of assurance, both for the company as well as the product. While the color red tends to portray warmth and passion, grey, on the other hand, suggests security and reliability, leading to immaculate representations of various traits.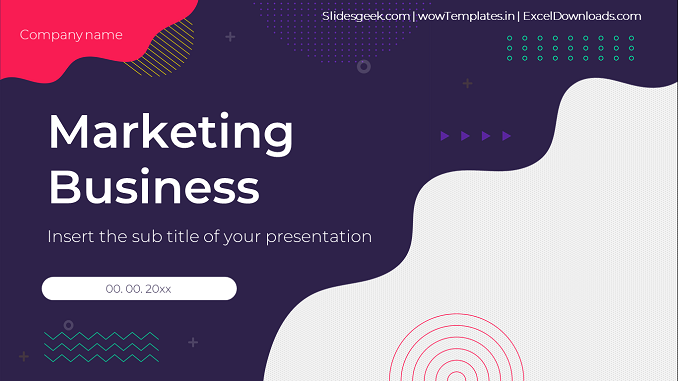 Download Marketing Business Presentation Template for Free!
Financial consultancies, cost accounting, money management, advisory services etc. are the foundation stones of a business, and an indispensable part of any business or profession. This dollar key template is a perfect fit for finance related presentations for showcasing timelines, project reports, cost optimization, pitch deck and service portfolios. It even contains a slide for introducing the team members, as well as timelines and roadmaps. The line charts and graphs, complimented with simple and clutter free layouts help in data visualization. Further, it is completed with an icon pack that can be used throughout, and a grey color scheme to enhance the security and reliability of the business and presenter.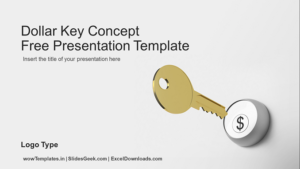 Download Dollar Key Concept Presentation Template for Free!
Apparel industry is a highly competitive and creative one. It requires uniqueness in style and an aesthetic eye. This clothing line template has a very distinctive appearance to make your presentation stand out among that of thousands of enthusiasts who are passionate about the field of clothing. The color pink signifies creativity: so it would highlight your effort and uniqueness, care: that would be an integral part while creating clothing or designs, felinity: commonly associated with the industry, and confidence: that you would radiate while presenting with the help of this presentation template. This template offers graphics, layouts, and icons, set in a pink theme to glorify your brand or chain of clothing stores. It can be mainly used for showcasing business of clothing, projections, and plans, and with a little modification, for pitch deck presentations as well.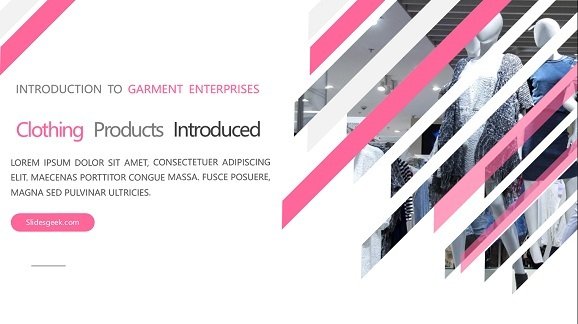 Download Clothing Line Presentation Template for Free!
Further, the most essential part of your presentation is your accurate research and confidence. These factors, paired with these amazing templates, can help you create more than perfect presentations and create a lasting impact. Hope you found this useful for your presentation and business. Stay tuned and keep checking this section for more amazing tips and tricks!