Free Presentation Templates & Designs
Get thousands of free PowerPoint and Google Slide Presentation Templates, Designs and Diagrams. Create impressive, best and professional presentations using free templates, tutorials and hacks related to PowerPoint and Google Slides.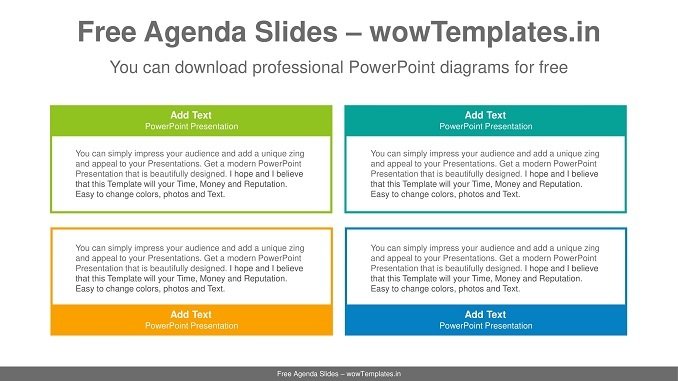 Simple Colorful Textboxes is a free agenda presentation template for PowerPoint and Google Slides. It comes with infographic design of colorful textboxes. Text boxes are...
More Infographic Designs and Templates
Below is the list of recently uploaded Infographic Presentation templates with multiple slides and multiple designs. There are pre-built presentation templates with various sections and charts and graphs wherein you can quickly draft or curate a presentation with almost no changes. Furthermore, you can explore the navigation bar to explore more presentations as per your required or desired topic. 
Create a visual impact with the help of presentations
With Free and Professional Presentation templates and designs offered by wowTemplates, you can save hundreds of hours of manual task, be more productive and impress your audience with visually appealing slides and infographics that are 100% editable as per your requirement.
Presentations help in visualization of data set, assessment workings and various other not so cool information. However, one should be careful with the type and sort of infographics used. With wowTemplates, you get to choose amongst a wide range of templates, designs and diagrams.